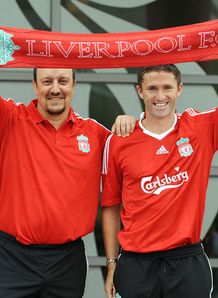 After is was reported yesterday that Liverpool boss Rafa Benitez could place £20 million summer signing Robbie Keane on the transfer list, his former club Tottenham have today been linked with a January move for him.

The Republic of Ireland international has failed to shine at Anfield since his joining the club back in July and it is now understood that Spurs manager Harry Redknapp is considering bringing him back to White Hart Lane. Keane, 28, has only scored 4 goals for the Merseyside club and was recently dropped for the side's 3-1 victory against Blackburn.

Should a bid of around the £20 million mark, which Liverpool spent on Keane, be received it is likely it will see the former Inter Milan striker on his way out the door. I think this would be best for all parties. Liverpool would get a decent sum of money for a player who has struggled this season, Spurs would be getting one of their best performers over the past two years back and Keane will hopefully start showing everyone why Liverpool did cough up so much money for him in the first place.

Keane costs just £7 million in this season's "You the Manager" and may be worth a look. So follow the link below to enter your team to be in with a chance of winning some terrific weekly and monthly prizes.
0 comments: