Birmingham have completed the signing of Brentford Town F.A Cup hero DJ Campbell for an initial fee of £500,000 which could rise to as much as £1million. Campbell shot to prominence after scoring the goals that knocked Sunderland out of the FA Cup on Saturday and he has now secured a dream move to The Premiership by agreeing a three-and-a-half-year contract with Blues.


Campbell moves to St Andrews after Steve Bruce's side agreed an initial fee of £500,000 with League One Brentford.The deal may rise to £1 million dependent on appearances and Bees boss Martin Allen can at least console himself with the significant cash windfall.
This transfer is a big big surprise to me because all I have seen Campbell do is score two goals in the F.A Cup and they were only against Sunderland. I think that £1million is a bit much for a player that was only playing non league football last year for Yeading but I do wish him all the best at St. Andrews.
West Ham United have signed Deportivo La Coruna star Lionel Scaloni onl oan until the end of the seaosn. West Ham have signed the player after they had missed out on Barcelona player Gabri. Alan Pardew thought he had won the chase for Gabri on Monday, but the player ultimately opted to stay at Camp Nou leaving the West Ham chief to switch his sights to another Liga performer. Scaloni is club captain at Depor where he has been for eight years, but has found opportunities hard to come by since Joaquin Caparros took charge last summer.


His father confirmed the news Scaloni is now to play the second half of the season in England and, using less than complimentary terms, admitted the move had come as a bolt from the blue for his 27-year-old son. "Everything is arranged with West Ham," stated Angel Scaloni. "They confirmed it with us at midday, although we already knew about the negotiations.
Good bit of business here by West Ham because Scaloni is a great player with alot of ability and they are getting him for nothing on loan. West Ham have already signed Dean Ashton and Katan in the transfer window and this should conclude their dealings in this window but you never know what might happen.
Keep your rumours coming in please!
Arsenal youngster Quincy Owusu Abeye has signed for Russian side Spartak Moscow for an undisclosed fee. The Dutch winger has surprisingly been allowed to leave the Gunners after he has been floating around the first team. I have seen Quincy play a couple of times this season and I have to say that I am very surprised by Arsenal's descion to let him go.


Blackburn have have signed on loan winger David Bently on a permanent deal from Arsenal. The young English man joined Blackburn on loan during the summer and Blackburn boss Mark Hughes believes he has done well enough to deserve a permanent deal. This is a good move by Blackburn because Bently is young and he has done well so far at Ewood park.
Blackburn have also signed Liverpool striker Florent Sinama Pongolle on loan until the end of the season. The young French striker has failed to gain a first team place at Anfield and has opted to leave until the end of the season. This decsion has probably been made because of Robbie Fowler arriving at the club.
Fulham have completed the signing of Tottenham misfit Michael Brown for a undisclosed fee. The 29-year-old has signed a deal until the summer of 2009 with Chris Coleman's side after falling down the midfield pecking order under Martin Jol. Brown was delighted to make the January transfer window switch to The Cottagers, as he looks to secure regular first-team action at the club. "I'm very excited to be joining Fulham at this point in my career and I'm looking forward to the challenges that this new opportunity brings," Brown told Fulham's official website.


"I enjoyed my time at Spurs and wish the club and its supporters well, as everyone there was really good to me. "But if I'm honest, my prospects there became very limited, so when a club like Fulham who play attractive, passing football showed an interest in me, there really was only one decision that I could make, and I'm really looking forward to working with Chris Coleman and the rest of the squad."
Interesting little move here by Fulham because when Brown plays to his best he is a good player but when he is not on form he is terrible. Brown is 29 years old and he still does have a good few years left in him and Fulham will now be hoping he can really excelle at Craven Cottage.
Remember to keep sending in your rumours and other stuff on this busy day.
Manchester City have signed both Southampton dfender Matthew Mills and Hereneveen striker Georgios Samaras on transfer deadline day. Mills, the 19-year-old, an England Under-21 international who has had loan spells at Coventry and Bournemouth, has agreed a three-and-a-half-year deal. Mills was coached by City's reserve team manager Steve Wigley when he was in charge of Saints' youth academy.


Samaras, the 20-year-old completed his move on Monday night after agreeing personal terms and passing a medical. Samaras will make his City debut in Wednesday's home Premiership clash with Newcastle providing his international clearance comes through in time. The Greek forward is believed to have signed a four-and-a-half year deal with Stuart Pearce's side. City previously offered only £3m for the Greek forward, who went on strike rather than return to training after Heerenveen had wanted nearer to £9m. But they agreed a £6m fee with Heerenveen on Saturday night.
Good buys for City because both players are very young and very talented. The Samaras signing has taking a hell of a long time but City fans and staff will now all be very relieved that they have finally got their man. The Mills signing is a good one because the player has done well at previous clubs and he is still only a teenager.
If you have any rumours or any more deals happening today on this very busy day please leave a comment.
Celtic have signed former Aston Villa and Manchester United striker Dion Dublin on a free transfer after Dublin's contract was terminated by mutual consent at the weekend. Bhoys boss Gordon Strachan knows Dublin well from their time together at Coventry City and has now given him the chance to shine in Scotland.


Celtic have lost striker Chris Sutton during the transfer window to Birmingham and Dublin can operate up front, although he is also adept at the back. Dublin has put pen-to-paper on a short term deal with the Parkhead club that will keep him with the side until season's end.
Rangers have made a bid for Hibernian striker Derek Riordan believed to be in the region of £350,000. Speaking about Riordan - who has turned down offers to extend his current deal - a Hibs spokesman said: "We've had interest from more than one club. "But the manager has said that the player has value because of his goals, talent and his contract. So offers would have to meet our valuation." The Edinburgh club said last week that they had turned down an offer from German side Kaiserslautern.
The Riordan deal for Rangers would be an absoloute steal at the price that they may get him. Riordan has really impressed me this season and I would think a number of Premiership clubs have inquired about the goalscorer. I'm not to sure about the Dion Dublin transfer because he is very old and I don't think he will do well at Celtic.
Portsmouth have continued their spending in the transfer window by signing former Crystal Palace man Wayne Routledge and Ognjen Koroman both on loan deals. Routledge has arrived on a season-long loan from Tottenham - the fourth player this month to move to Fratton Park from White Hart Lane, following Sean Davis, Noe Pamarot and Pedro Mendes.


"Wayne has an awful lot of ability and is still at an age where there is a lot of room for him to become a really great player," said a delighted Portsmouth boss Harry Redknapp. "We are crying out for a wide man and to get someone in the mould of Wayne is tremendous and he will really give us the width we have been missing. "There were very encouraging signs against Liverpool and we have now added a bit more quality in a position where we can create a lot more danger in the opposing penalty box."
Serbian midfielder Koroman, 27, has also arrived on loan and he has come in from Russian side Terek Groznyi. Koroman will be the second Serbia & Montenegro international to sign for Pompey this season, although fellow countryman Zvonimir Vukic has just completed a loan move to Partizan Belgrade as things failed to work out for him on the South Coast.
Birmingham have also signed Martin Latka on loan from Slavia Prague until the end of the season. The Czech Republic Under-21 international was thought to be on his way to St Andrews earlier on Monday after Blues beat off competition from Middlesbrough for his signature. Fans are likely to get an early view of the 21-year-old, with manager Steve Bruce set to include the youngster in his squad to face Liverpool on Wednesday.
Out of the three transfers I would think the Routledge one is a smart bit of business by Harry Redknapp. Routledge has been out of favour ever since his move to Spurs and I think that this move will do him the world of good. I have to say I haven't seen Koroman play but I have seen Lakta play and he looks like a decent prospect.
Manchester City have rejected a written transfer request from their player of the season so far, Joey Barton. The highly-rated midfielder has been discussing a new contract at Eastlands with City boss Stuart Pearce keen to continue tying down his best players to fresh terms. It is believed that Barton has been disappointed with the level of pay being offered by the City of Manchester outfit.


Sources claim the 23-year-old has made his feelings known by officially handing in a request to move away from the club. Pearce was confident his midfield terrier would commit his future to the club this week but it seems as though there is much work to be done before a positive conclusion to the talks is reached.
City have rejected the request and City boss Pearce still wants him at the club. I am a City fan and I am not at all happy. Man City stook by the player after two incidents last year were City could of sacked but instead they stook by him, and I think Barton owes it to the club to stay.
The Euro 2008 qualifying round draw was made today and there are a few very interesting groups.




Here they are:


Group A


Portugal
Poland
Serbia & Mont
Belgium
Finland
Armenia
Azerbaijan
Kazakhstan


Group B


France
Italy
Ukraine


SCOTLAND


Lithuania
Georgia
Faroe Islands


Group C


Greece
Turkey
Norway
Bosnia
Hungary
Moldova
Malta


Group D


Czech Republic
Germany
Slovakia


REP OF IRELAND




WALES


Cyprus
San Marino


Group E




ENGLAND


Croatia
Russia
Israel
Estonia
Macedonia
Andorra


Group F


Sweden
Spain
Denmark
Latvia
Iceland


NORTHERN IRELAND


Liechtenstein


Group G


Holland
Romania
Bulgaria
Slovenia
Albania
Belarus
Luxembourg



Joint hosts Austria and Switzerland qualify automatically


Games start on 2 September



Best Group:

Group B


Worst Group:

Group G


My Favourites for tournament:

Italy
Robbie Fowler has shocked the footballing world by moving back to the club where he made his name, Liverpool. He got his dream move after Man City boss Stuart Pearce said that if I didn't let him go then I would upset him and that it would give City a bad reputation. The news broke at about 5:00p.m on Friday when it was confirmed that Fowler was moving back to Liverpool on a free transfer from Man City.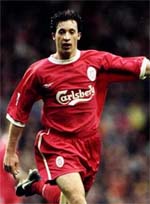 Fowler has joined The Reds until the end of the season, with his City contract due to expire in the summer. A Liverpool statement confirmed the move, and read: "Liverpool Football Club are delighted to announce that Robbie Fowler has rejoined the club on a free transfer from Manchester City until the end of the season when the situation will be reviewed."
The 30-year-old bagged over 170 goals in his nine-year spell from 1992 to 2001 - and he will now get the chance to add to that tally. The last time Fowler scored for Liverpool was a hat-trick against Leicester in October 2001 - before he signed for Leeds. Rafa Benitez has decided the time is right to bring Fowler in, and the Spanish tactician will hope that his goalscoring expertise can rub off on the likes of Peter Crouch and Djibril Cisse - who have at times struggled to find the net on a regular basis during their time with the club.
This has obvioulsy shocked me and a number of other people around the world. You may forget that Fowler still is only 30 years of age and that if he can create anything like the form he did the first time that he was with the Merseyside outfit then all the plaudense will go to Rafa Benitez, but if it dosen't work out, Rafa will look like an ejit.
I know Liverpool fans will be very pleased with the signing of their hero but City fans will be getting worried if Pearce dosen't bring in another striker in the January transfer window because at the moment they only have two senior striker in their ranks.


Name: Liverpool
Nickname: The Reds

Manager: Rafeal Benitez
Captain: Steven Gerrard

Stadium: Anfield
Capacity: 45,000

Star Player: Steven Gerrard
One To Watch: Xabi Alonso
Young Gun: Stephen Warnock

Top Goalscorer Of All-time: Roger Hunt (245 goals)
Most Appearances: Ian Callaghan (640)

Profile:

Liverpool are the most succesful club in all of England through the years. Before the Premiership began Liverpool were nearly unstoppable. Winning league title after league title. Now adays Liverpool haven't been winning title after title but they are very very consistent finishing in the top four most seasons. Many managers have come and gone at Anfield but since former Valencia boss, Rafeal Benitez came he has brought some top top class players to the club including the likes of Morientes and Xabi Alonso. He has also used the youths in alot of their matches. Liverpool have in their ranks probably one of the best players in the world in Steven Gerrard. He is the key to their succses and if he and Benitez can both do their jobs to the best of their ability I could see a very bright future for the club. Only last year they won the most prestigous tournament in Europe, The Champions League and that was in Benitez's first season at the club and few would rule out Liverpool of retaing their title this year.

If you would like to read more club profiles then just look at the sidebar!
Manchester United have been hit by the news today that Paul Scholes has been ruled out for the rest of the season and John O'Shea will be out for about six weeks. Scholes' injury is said to be none football related and it is thought that it is his on going eye problem. After initial tests, a second opinion has concluded that the Manchester United midfielder must rest for the next three months or more.


Scholes has been complaining of blurred vision since the match at Birmingham City at the back end of 2005. The former England international had started to show signs of returning to form and his prolonged absence is a blow to Sir Alex Ferguson, who already has major problems with his midfield.
O'Shea's injury came during United's 1-0 victory over Liverpool. Scans have shown that he has cracked two ribs and will probably be out until early March. O'Shea has been playing alot of games recently for the Red Devils and will probably need the break but I think that he would certainly not of liked it to come in this sort of fashion. It means Ferguson may be forced into the transfer market to bring in a midfielder to help ease his injury problems.
Bad bad news for the United team and supporters because Scholes had been playing well hitherto the injury and O'Shea has really done well since he got his run in the first team. I'm sure United will be more concerned as to the extent of the Scholes injury because it could threaten his whole playing carear.
West Ham United have splashed the cash today to sign former Crewe striker Dean Ashton for an initial fee of £7million and the deal could rise to as much as £7.25million. Ashton, 22, has agreed personal terms and will undergo a medical - with the Hammers hoping to unveil him before Monday night's game against Fulham. Ashton, a former England Under-21 international, scored 18 goals in 46 games for Norwich following a £3m move to Carrow Road from Crewe a year ago.


Crewe will receive £1.5m up front as part of a sell-on clause included in that deal. Norwich will receive an extra £125,000 if Ashton makes a competitive appearance for the senior England team and an extra £125,000 if West Ham qualify for Europe while Ashton is at the club. Hammers manager Alan Pardew is a long-term admirer of Ashton and was keen to bolster his forward line, despite persuading Bobby Zamora to sign a new contract on 18 January.
I believe that £7million is a little bit too much for Ashton although I do think he is a good player and will do alright at the Hammers. Ashton has had a taste of the Premiership already with Norwich and he did well and he will now get a second bite at the cherry in the Prem. Great news for Crewe but it is sort of mixed news for Norwich because they have gained £7million but they have lost their best player.
High flying Premiership side Wigan have had a busy day in the market today with the loan signings of both David Thompson and Neil Mellor. Thompson, 28, has struggled to keep a first team place at Blackburn since recovering from a knee injury earlier this season. Thompson has suffered a host of injury problems over the last few years. The difficulties started in 2003 when a knee ligament problem kept him out for nine months.


He broke two bones in his foot after just 17 minutes of his comeback game against Manchester United in August 2004 which forced him to spend three months on the sidelines. Further surgery to finally correct the injury followed last summer. Complications with his knee then arose on a pre-season tour of Germany and he has been restricted to just three starts this season. "David has shown a real hunger to be involved with the Wigan project," said Jewell. "He's a talented lad who can play in a number of positions and he also has an eye for goal.
Mellor, 23, has also struggled to gain a first team place at Anfield with Liverpool due to the form of the likes of Crouch, Cisse and Morientes. The 23-year-old hit-man has found first team opportunities scarce at Anfield this term and has now moved to rejuvenate his somewhat stagnated career at The JJB. Jewell is confident Mellor has all the attributes to help Wigan sustain their fine start to life in The Premiership between now and the campaign's close.
"He will bring us a new dimension, and add competition to the squad which we need at the present time,'' Jewell told the club's official website. ''Neil is a good young striker who is looking for a chance to prove himself again at this level. ''He is strong and skilful with an eye for goal. I'm delighted to have both on board."
Two very good players and I think that they will both benifit from these loan deals that will last up until the end of the season. Out of the two I would have to say, Thompson is the better player because he's involved in everything in every match and he gives it all he's got in every game. It isn't that I think Mellor's a bad player, far from it, he is but he just needs a bit more experience and that is why I think it's a good move for him.
Charlton have completely the signing of former Ipswich striker Marcus Bent for a initial fee of £2million and the deal could rise to as far as £2.5million. The 27-year-old striker put pen-to-paper on a three-and-a-half year deal at The Valley. Bent said: "Charlton are a team I've always looked at with high regard. I can't wait to get started and am really looking forward to it. "They always produce strong teams down here and it's nice to get a chance to play for Alan Curbishley."


Curbishley is a long-term admirer of Bent and moved for him after agreeing to sell Jason Euell to Birmingham. "There were rumours in the summer and I think it's been ongoing," Bent told the Charlton website. "Coming up to the transfer window I know Everton have been looking to bring another striker in. That didn't mean I had to go but I felt it was better for me as I wasn't playing. "I was happy at the club but not playing means that I'm not happy in football terms." Bent made 42 appearances for the Toffees last season and his seven goals helped the Goodison Park club to Champions League qualification.
Although I think Bent is a decent player I certainly don't think he is worth the money that Charlton are paying for him. I know I am usually nice to clubs buying new players but I'm afraid this time I am going to have to critisce Alan Curbishley, although I think he is a great manager and a great man.
I was at the Manchester Derby yesterday and I have to say it was one of the most enjoyable days of my life. Just to tell you I'm a City fan. The day started when I woke up at around 4:30 a.m. I was so tired because I only went to bed at about 11:30 then night before. So I went to the airport with my mam, dad and my brother Kevin. We got the 6:25 flight to manchester on a Aerlingus plane. I slept the whole way.

When we arrived in Manchester it was still pitch black and we headed for Manchester airport train station. We arrived in Manchester Piccadily at about 8:00a.m. and we went to get some breakfast, but most shops and stuff were closed so we the Adidas shop which was open and I bought new shorts and a jersey thingy.

When we got breakfast I think it was in Debenhams and it was quite nice except for the tea. We then headed for The City Of Manchester Stadium. We got a bus their and it was packed with City fans. When we got to the Stadium itself the place was buzzing with excitement. We only got to see Vassell coming into the ground in his stylish car.

We went into the stadium and some of the players were warming up including Edwin Van Der Sar and David James. Then all of the outfield players started comimg out. It was great to see them and the City players escpecially looked up for it. When 12:45 came the atmosphere was building.

As you probably know the match finished 3-1 to City and it was brilliant. It seemed as though the match didn't go on for very long because it was just so enjoyable. We left the stadium and went to Pizza Hut and I had a lovely Margerita pizza. We then went to the Airport and loads of City supporters were their and there were also a few Liverpool fans because their team were playing and they won 1-0.

In the airport I saw Irish comedian Tommy Tiernan who is a Liverpool fan. We were talking to some City fan and he said that he saw Cristiano Ronaldo in Dixons and if you didn't know Ronaldo was sent off in the game. It was a great day and by the way my mam is a United fan and she had to sit with me, my dad and my brother, we are all City fans.

If you want to you can read the match report if you want on the match, it's a good one.
Arsenal have signed out of favour Monaco striker Emmanuel Adebayor. The player had fallen out of favour at Monaco after missing training several times and he had been warned he would never play for the French club again. Gunners boss Arsene Wenger had confirmed his interest in a deal for the 21-year-old, who is due to play for Togo at the African Cup of Nations. "He has qualities that we don't have in the side. He is tall, good in the air and makes good runs," Wenger said.


"He is a bit of a Kanu type but he goes in more behind the defenders." Adebayor becomes Arsenal's second capture in the current transfer window after Arsene Wenger also completed the signing of Vasiriki Abou Diaby. The Gunners will pay an undisclosed fee to the Principality club after signing the African on a "long-term contract".
Arsenal have also signed Auxerre's 19 year old midfielder Abou Diaby on a four year deal. Diaby rejected Chelsea in favour of a move to Highbury. Auxerre vice-president Gerard Bourgoin said Diaby met officials from both clubs in London on Wednesday and said: "The choice belonged to Diaby. "But Arsene Wenger was better than Jose Mourinho, that's all."
Arsenal boss Wenger said: "He is a strong midfielder and has shown huge potential during his time at Auxerre. "He will be a tremendous addition to our squad." And Diaby added: "I am so happy to have signed for Arsenal.
Two very decent players for Arsenal and I have a feeling both will do well in the Premiership. The two players are both very young so they have most of their carrers ahead of them and Arsenal will hope that if they do well they will stay for a lengthy spell.
Portsmouth have splashed out the cash today for three Spurs players at a combined fee of £7 million. The three players are former Fulham man Sean Davis, former Porto midfielder Pedro Mendes and finaly a player that has already played with the South Coast out fit on loan, Noe Pamarot. All players are 26 years old. This has brought Pompey's January spending spree up to around £12 million. "I'm delighted to get three quality players I really needed and wanted," said Redknapp.


The club have already signed Zimbabwe international striker Benjani Mwaruwari for a club record fee of £4.1m and Poland forward Emmanuel Olisadebe. Redknapp added: "The side desperately needed improving and I always knew I had to put a team together that will get us out of trouble and back on track. "I'm sure other clubs were interested in the players we've signed. I've never signed three from one club before all at once but these are top Premiership players and will be a massive asset to us."
These three players, I believe will do well at Pompey. This is a good bit of business by Redknapp. With all players only 26 years of age they should have most of their carrers ahead of them. I think the best signing out of the trio is Sean Davis, even though he hasn't played much this season, I still think he has alot of talent and will help Pompey.
What do you think of these three signings? Do you have any other rumours about clubs trying to buy players? Then why not leave a comment.
Portsmouth have today unveiled new joint owner of the club Alexandre Gaydamak but the Russian multi-millionaire has said that he is no Abramovich. On the day that they have unveiled a new joint owner they also unveiled Benjani Mwaruwari as a new club record signing at £4.1 million from French outfit Auxere. Exciting times for Pompey fans!


Gaydamak has secured a 50-50 partnership with current chairman Milan Mandaric, having invested £15 million of his own money in the South Coast club. However, whilst there has been talk of investment in the region of £100 million, Gaydamak admits he is not on the same level as Chelsea's billionaire owner. "I don't know the gentleman (Abramovich) personally but I have the utmost respect for him and admire him very much," he said.
"I am very uncomfortable with comparisons between us, it is a different league - I am very small and he is very big, I can't compare myself to him. "I took the advice of my own advisers for this and that's it. My ambition for this football club first and foremost is to stay in The Premiership and at the end of the season we will see what we can do. "I see myself as a person who found an opportunity and a very strong challenge, not a saviour. You think I'm the saviour? That is a joke.''
But Mwaruwari probably won't be the only signing in January because the club have already been linked with several other decent players such as Benni McCarthy and Carlo Cudicini to name two. I think Gaydamak looks like a nice guy and I think he will be able to as he said stay in the Premiership this season and then push on. Good luck to him and Pompey.
Birmingham, Manchester City and Manchester United have all made their first move's in the January transfer window. Birmingham have completed the signing of former Chelsea and Blackburn striker Chris Sutton from Celtic. Sutton, 32, has left the Bhoys by mutual consent and has joined Birmingham until the end of the season. "It's obviously a huge disappointment to lose a player of Chris' quality," said Celtic boss Gordon Strachan. "The club has granted Chris his wish to move on and I would like to wish him all the best for the future." Birmingham have also missed out on Sutton's former Celtic team mate Henrik Larsson from Barcelona.


Manchester City have also made their first move in the market by securing the services of former Bordeaux winger Albert Riera on loan until the end of the season from Espanyol with a view to a permanent move. The 23-year-old has struggled to establish himself at Espanyol since arriving from Bordeaux last summer. "We saw the opportunity when things hadn't worked out there to bring him in," said City boss Stuart Pearce. "He's on loan until the summer and if things work out well for him here we might well keep him on beyond that." Riera, who has been given the number 19 shirt, could go straight into City's squad for Saturday's FA Cup game against Scunthorpe if the club receive international clearance.
Manchester United have splashed the cash today by completing the signing of Serbia & Montenegro international defender Nemanja Vidic from Spartak Moscow for a fee of £7 million. Vidic, 24, has been granted the work permit he had been waiting for and is now expected to join up with his new team-mates on Friday. Manager Sir Alex Ferguson told MUTV: "Good defenders win you things. "This lad is really natural and athletic. You need good defenders and that is exactly what this lad is."
Man United are also closing in on a deal for Monaco defender Patrice Evra. United's chief executive flew to the Principality on Thursday and met with both Monaco and the player's representative Frederico Pastorello. Evra's move is now being described as some '75 percent' complete and Pastorello predicts Monday should see the move finalised. "We had a meeting in my office with David Gill and Monaco as the two clubs and us talked," Pastorello told skysports.com. "It went very well and we expect something to be done by the weekend, you could say it is 75 percent done. "There are a few details to sort out about the deal but by Monday we would hope to be in a position to finalise things. "We also need time to think about a few things with the contract and the details of the deal."
All these moves sound good and all the players are very very decent. The two Man United deals are great and I also believe the Man City move is a good one because it dosen't cost a penny. Chris Sutton is a good player and I think that he will do well at St. Andrews.
If you have any rumours or any other transfers that have been made please tell me them by leaving a comment.
Chelsea, Portsmouth and Liverpool have all made new signings todayafter the transfer window opened 4 days ago. Chelsea have completed the loan signing of Portugese midfielder Maniche. The 28-year-old joins from Russian side Dynamo Moscow until the end of the season and is eligible to play in the Champions League knockout stages.Blues boss Jose Mourinho has indicated that Maniche will be Chelsea's only recruit in January.He said: "We will sign nobody or one player in the window. If we sign one player he will be a midfield player."Mourinho's need to further bolster his midfield heightened following Michael Essien's injury during the Blues' 3-1 triumph at West Ham on Monday.


Portsmouth have completed a deal to sign Poland striker Emmanuel Olisadebe until the end of the season. The 27-year-old had returned to Greek side Panathinaikos after failing to impress in a trial at Fratton Park last week - but the move was revived. Details of the transfer were not revealed but Olisadebe said: "It feels good to be back after my trial here."I am excited about the prospect of playing in the Premier League which is the best in the world."
Meanwhile, Portsmouth's on loan Frenchman, Laurent Robert, has joined Portugese side Benfica ending his loan stay at the South coast club. Newcastle paid £10.5m for the 30-year-old in 2001 but he left the club in the summer following a series of arguments with boss Graeme Souness. And he has now signed a three-and-a-half year contract with Ronald Koeman's Benfica side.Robert said: "This is a super club. To be able to play in the Champions League is fantastic and that's why I am here."He added: "They showed a lot of interest in me. I am very happy to be here.
And finally, Liverpool have completed the signing of Villareal's Dutch right back Jan Kromkamp and Josemi is going in the other direction. Krompkamp, 25, has passed his medical and will be officially unveiled at Anfield on Thursday. He could make his debut against Luton Town in the FA Cup on Saturday after a rule-change over the eligibility of new signings in that competition. Josemi, 26, wrapped up his part of the move on Monday. Speaking at a news conference in Spain, Josemi said: "Myself and my family are really happy to be returning."He added: "I'm thankful to Villarreal for giving me this chance."
I think the Kromkamp move and the Maniche move are the best move's out of them all but the Robert deal is a bit dodgy because Robert isn't a great player and I think he will struggle to get into the Benfica team. The Portsmouth signing being honest I know nothing about Olisadebe. Keep looking at the blog because there will be much much more transfer news over the next few days.