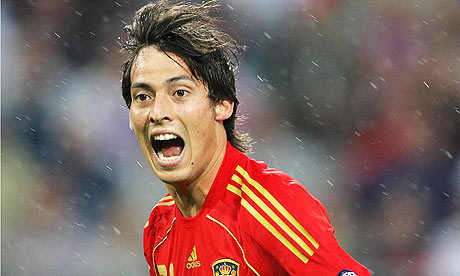 With Gareth Barry now a Manchester City player, many people including myself, feel it's time Liverpool make a move for Valencia winger David Silva.

The Spanish midfielder has been linked with a move to Anfield on several occasions over the past few months, however as of now, Liverpool are yet to make a concrete bid for the player.

Silva, 23, is widely regarded as one of Europe's finest left sided midfield players and with Rafa Benitez clearly lacking in that department, I personally feel now would be the perfect time for the Merseyside club to make a move for Silva.

Much has been made of Valencia's financial trouble over the past 18 months or so and many people believe the La Liga club would accept any bid in the region of £22 million for Silva. If that is the case and Liverpool do have to cough up £20 million plus to sign Silva, they will obviously have to forget about the likes of Carlos Tevez, but I firmly believe Silva would be an all round better signing for Liverpool at the present moment.

What do you think? Comments below please.
1 comments:
Agreed 100%..But i dont see a single hint that Liverpool are to make such a move...I dont know why but he will be a fantastic addition to th squad..And i can't see a reason why he would not come coz the reasons for us to sign him is clear...Finished 2nd spot..Champions Lg football..Spanish boss..Spanish teamates..One of the best clubs in the world...What other reason does he need?..Ohh i think i know..The one that scum BARRY did not reveal..THE MONEY..BUT WILL SILVA BE THAT SORT OF A PLAYER?..WE WILL WAIT AND SEE.