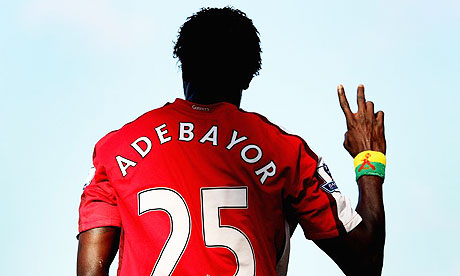 With AC Milan playmaker Kaka looking set to leave the San Siro in the coming days for upwards of £50 million, there is no doubt the Italian giants will look to spend some of that on replacing their best player.

One man who is attracting interest from Milan is Arsenal striker Emmanuel Adebayor.

The Togo international has had a strange few years since arriving in North London back in 2006. During his first year at the club, many fans labelled him the replacement to Theirry Henry, whereas in previous months, he has been heavily criticised for one reason or another.

Adebayor had this to say about his future just a few weeks ago : "All I can say is I am a footballer and if a club like Milan are interested in me then I cannot lie to you, I am happy, because it is Milan ... But the thing is that it stops there – I am very happy playing for Arsenal, and this is what I always say.

I remember writing a piece on this a few weeks back and one Arsenal fan (well I presume he was an Arsenal fan) left a comment saying this : "Arsenal want rid of Adebayor."

I would have to say, I think a move to AC Milan looks a definite possibilty for Adebayor. Milan are now short a frontman, however they certainly won't be short of money and I think if a bid of around the £17.5 million mark where to come in, I feel Arsene Wenger would take it. I'm curious to hear what you Arsenal fans have to say on the matter, please leave a comment below.
1 comments: