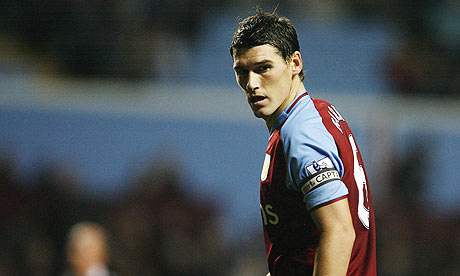 It has emerged today that Manchester City are holding talks with Aston Villa midfielder Gareth Barry, after months of speculation over the player's future.

The England international looks certain to leave Villa Park once the transfer window opens on July 1st after admitting back in March that he would leave if they failed to finish in the top four this season.

Barry, 28, was strongly linked with a move to Liverpool last summer, however the Merseyside club failed to meet the £18 million valuation placed on his head by Villa boss Martin O'Neill.

It was understood that Rafa Benitez was keen to make another move for Barry this summer, however with Manchester City now talking to the player a move to Anfield looks unlikely. There is no doubt City can offer Barry whatever wages he wants, however you would have to question Barry's ambition as a footballer.

As a City fan myself, I am obviously hoping that we can become a top four club as soon as possible, but realistically, it will be another two years before we can achieve that and Barry isn't exactly young. If he wanted to achieve things he would obviously have tried to push through a move to Liverpool but I think this proves he is just a little bit greedy, but aren't we all.

It will be fascinating to see how this progresses over the coming days and weeks. Stay tuned to Football Corner for all the latest.

What do you think? Comments below please.
0 comments: