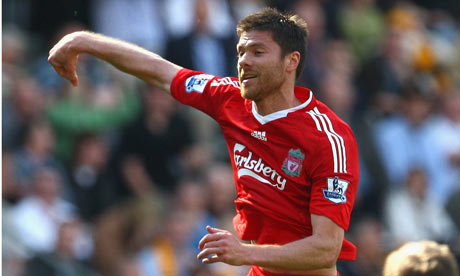 With the transfer window not open for another month, it is perhaps surprising to see so many big name players already being linked with big money moves and one name that just keeps popping up is Liverpool midfielder Xabi Alonso.

The Spanish international has been heavily linked with a move to La Liga giants Real Madrid in recent weeks and months, however Liverpool boss Rafa Benitez is insisting Alonso will remain at Anfield.

Speaking just a week ago, Benitez had this to say about the possibility of Alonso moving to Madrid : "Alonso has three years left on his contract and we are really pleased with him, so we do not want to sell."

I'm not surprised Benitez has come out and stated the club do not want to sell the 27-year old because I firmly believe he was their best player last season. Even if Real were to make an offer of £25 million for Alonso, I wouldn't even consider the offer, I would just reject it straight away because I feel he is just so important to the way Liverpool play the game.

OK, you can argue that with the money Liverpool got from Alonso's sale, they could go out and buy Gareth Barry and put a large chunk of the fee towards buying Carlos Tevez, but sorry, Barry isn't half the player Alonso is. What do you think? Comments below please.
3 comments:
Rafa dont make the mistake and sell Xabi, he has had his best season with the Reds since we signed him! He is instrumental to our potential success next season. This team was good enough to come second, dont sell your best players and bring in 3 or 4 others and unsettle the team. Rafa just bring in one big signing and get rid of some of the deadwood!




Benitez will end up selling Alonso, i personally hope it will not happen. But i think that realistically as good as he has been Benitez is not high on him.

Meanwhile i think that you are unfairly harsh on Barry. His passing game is defunct when compared against Alonso but isn't everyones? Barry is a very good player with many strengths and very few weaknesses.

If we can get Barry on the cheap we should get him anyway.