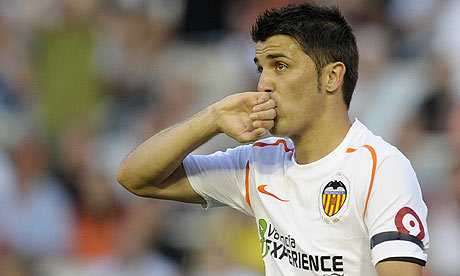 David Villa has today ruled out the possibility of moving to the Premier League after months of speculation regarding his future. Chelsea, Liverpool, Manchester City and Manchester United have all been linked with the Valencia striker in recent times, however it would appear a move to England is now dead.

When asked about his future, the 27-year old replied : "When I said I had taken a decision it was true, and this decision is that next season I will play in Spain because it is the league that is best for me, I will not go abroad."

These comments will obviously be music to both Barcelona and Real Madrid ears. It is thought that Valencia will only sell Villa if the price is right, with a fee of £45 million being touted and with Barca and Real both willing to splash the cash this summer, it will be intriguing to see who eventually comes out on top.

As a massive fan of Premier League football in general, I'm devastated to see that Villa won't be arriving this summer. There is no doubt he is one of the best strikers on the planet and it would have been a pleasure to see him play in, undoubtedly the best league in the world. If I was a betting man (which I am) I would certainly be having a few quid on Villa to join Barcelona before the summer transfer window closes.

Where will David Villa be playing next season? Well, we are currently running a poll on that topic at the moment which can be found just to the right of this post. Also, leave your comments below please.
2 comments:
i want him to join real madrid he'll be more suited there he will play alongside his spanish collegue raul




wouldn't it make more sense for him, with regards to both team and country if he played in england, particularly liverpool? he would get used to different styles of footie, play with a team that is almost more spanish than the top sides in la liga, and continue to get used to playing alongside torres? yes it would. i guess he likes playing for a loser club and doesn't mind looking out of sync with torres and losing to united states teams. idiot.