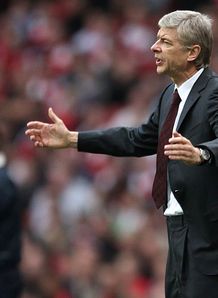 "I am contracted until 2011 and until 2011 I do not envisage to go anywhere else."

That was the message from Arsenal manager Arsene Wenger after he was asked about the possibility of him leaving the Emirates. It was reported in several papers this morning that Manchester City were lining up a summer move for Wenger, who has seen his side drift out of contention for major honours this season, however the Frenchman has now stated his desire to stay in North London.

"I have never allowed anyone to question my commitment to this club, in the good and in the bad times, that has not changed in my mind ... They (Manchester City) have a very good manager in Mark Hughes. He is doing a good job. They have to keep confidence in him."

Tuesday's 3-1 victory over West Brom saw Arsenal close the gap to just three points on 4th placed Aston Villa and for me, I feel it's only a matter of time before the Gunners catch Martin O'Neill's men. Love him or hate him, you can't deny that he is a cracking manager and I personally think Arsenal would struggle without him so I'm sure the large majority of fans will be delighted to se these comments.

What do you think about this news? Happy, sad, not sure? Leave your comments below.
0 comments: