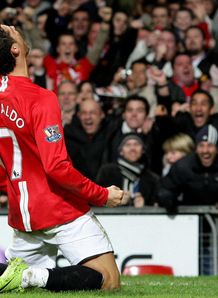 That's the opinion of our readers anyway. Yes, after just over a week of voting, you, the reader, have voted that Cristiano Ronaldo will still be a Manchester United player when the 2009/2010 season starts.

The Portuguese international has been strongly linked with a move to La Liga giants Real Madrid in recent months, despite the 24-year old claiming he is happy in Manchester. Here is a full result of the poll :

Manchester United - 25 votes (41%)
Real Madrid - 22 votes (36%)
Manchester City - 7 votes (11%)
Other - 6 votes (10%)

I would like to take this opportunity to thank everyone who voted and I would encourage all of you to vote in our latest poll (which can be found on the top right of the site). The poll asks : Who will finish 2nd in the Premier League this season? Get voting now.
0 comments: