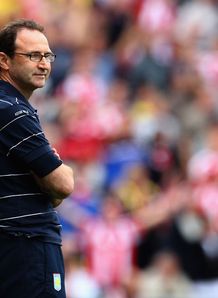 Aston Villa have done remarkably well this season no matter what way you look at it. Martin O'Neill's men currently sit 4th in the Premier League, six points ahead of Arsenal in 5th who are considered by many as there only challenger for that final Champions League spot.

Before the season started, few would have predicted that Villa would be lying just ten points off the top of the table at the beginning of March. Some of their results this season have been simply outstanding. The 2-0 victory over Arsene Wenger's Arsenal certainly springs to mind, however as well as they have done, they still aren't guaranteed 4th spot.

Their last two Premier League results have been disappointing to say the least. The 1-0 defeat at home to Chelsea and more recently, the 2-2 draw with Stoke City at Villa Park has left people questioning their ability to stay in the top 4.

It was very interesting to hear what O'Neill had to say after Sunday's defeat against Stoke (the game in which his side conceded two late goals to basically hand Tony Pulis' side a point). "With five minutes to go you should be able to see a game out. For the first time today I thought there was a degree of overconfidence about us." I have always been a fan of Martin's and I was happy to see that he said this. He didn't talk any crap like the majority of managers in England do, he simply gave his honest opinion of his side's performance on the day.

With just 11 games to go, it is obviously vital that Villa don't drop any more stupid points like they did yesterday. It will be intriguing to see how Villa react to Sunday's result when they travel to Manchester City on Wednesday, who are certainly no push-overs at home. I for one hope Villa do manage to hold onto that final Champions League spot, however I think they will find it very difficult to do so if Arsenal manage to put together a run of form between now and May.
3 comments:
I would say it was luck more than nerves that got them an equaliser. That shot was centimetres away from deflecting off Knight and going wide.

Everyone keeps putting Villa down without noticing the team below them, Arsenal, are dropping points at a greater rate.