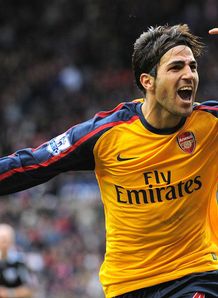 The Premier League is, as we all know, a one horse race this season with Manchester United likely to run away with the title. Ever since the second weekend of the season, one club who have certainly not looked like winning the title are Arsenal, so it came much to my surprise this evening when I read Gunners skipper, Cesc Fabregas' comments.

The Spanish international has today admitted he doesn't think challenging for the title this season is a realistic goal. This is what the 21-year old had this to say :

"It's not realistic to look at the league title now ... You can never say never but we would not be intelligent to be looking right to the top of the league ... To be intelligent now is to go game by game and think about who is directly in front of us."

Jesus Cesc, you might as well have said this four months ago. All season long Arsenal have been average at best. They have had far to many draws this season to even think of challenging for the title and for me, they will be doing extremley well to claim the final Champions League spot.
0 comments: