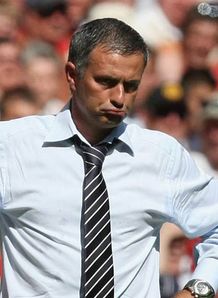 There is only one man to replace Sir Alex Ferguson at Old Trafford and thankfully, that man has admitted he would be interested in the job when it becomes available.

Yes, former Chelsea boss Jose Mourinho has today failed to rule out the possibility of one day joining Manchester United, claiming he would certainly be good enough to do so. Ever since his departure from the Premier League back in 2007, Mourinho has never hidden his desire to someday return to the country were he is now more commonly known as The Special One.

The Portuguese native had this to say on the matter : "If you want me to rule out ever being Manchester United manager I can't. Special clubs need special managers so in theory it could work, but nobody knows what the future is in football."
"The England national team wanted me as coach and that is the biggest job in England, so I am sure when Sir Alex retires they will look at the best managers in the world and I certainly fall into that category."

One thing you can definitely take from these comments is the fact that Mourinho certainly hasn't lost any of his self-confidence. Love him or loath him, you can't deny that the Premier League hasn't really been the same without him over the past 18 months or so and I think the sooner he comes back, the better. I do feel it will be some time before he has any chance of taking over at United because Fergie isn't thinking about to retiring just yet and why would he with his side unbelievably playing so well.

0 comments: