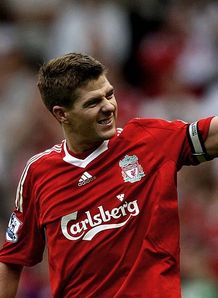 That is most definitely the case after Liverpool beat Aston Villa 5-0 at Anfield this afternoon.

A Steven Gerrard hat-trick ensured Liverpool moved to within a point of Manchester United at the top of the Premier League table. Following Saturday's result at Craven Cottage, Rafa Benitez' men knew a win would put them right back in the title race and thankfully for the Merseyside club, they did just that.

Many people (including myself) had questioned whether or not anyone could get even close to Sir Alex Ferguson's United just eight days ago, however since then Liverpool have gone on to record two massive victories whilst United haven't claimed a single point.

With just eight games to go now, Liverpool certainly have the momentum over United, however the men from Old Trafford do have a game in hand which could prove crucial in deciding where the title ends up come the end of May.

Although I have always maintained that United will eventually claim the title this season, I don't think Liverpool are a bad bet at 11/4 with most bookmakers. So who's your money on? Leave your comments below.

Over the past few weeks, Football Corner has been running a poll asking you, the reader, who you thought would finish 2nd in the Premier League this season (on the assumption United would finish 1st). Well now that Liverpool have forced their way back into the reckoning, we have decided to start a new poll (which can be found at the top right of the site). It asks : Who will win the Premier League this season? Place your votes now.
1 comments: