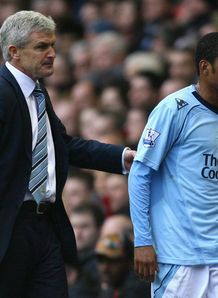 December 28th 2008.

That was the last time Manchester City striker Robinho scored a goal for the world's richest club. Since then, a lot of things have happened.

Barack Obama became the first black president of America.

A plane landed in the Hudson River in New York.

Josef Fritzel was sentenced to life in prison.

So just what has happened to the little Brazilian?

Well since his last goal at Ewood Park back at Christmas, the 25-year old has been accused of assault, stormed out of a training camp in Tenerife to go home and celebrate his birthday and has, in turn completely destroyed the team-spirit at Eastlands.

Other than that it has been business as usual for the former Real Madrid man. Robinho has continued to frustrate his City team-mates with that horrible attitude of his. Maybe the arrival of Craig Bellamy in January has had something to do with his poor run of form.

Just weeks after Bellamy's arrival at the club, it was reported in several papers that the pair had had a bust-up following the side's 2-0 defeat to Portsmouth last month. The Welsh international denied the claims, however Robinho never said anything.

There is no doubt that Robinho is very temperamental. If things don't go his way he is always quick to spit the dummy out and that is evident in the Bellamy case.

Robinho doesn't want to be at City. Simple as that. He spends every game moaning and traipsing around the field looking completely uninterested when the ball isn't around him. As my dad would say : "He is doing everything half-heartily".
4 comments: