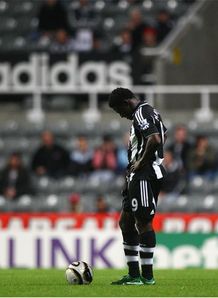 It certainly looks that way.

After yet another Premier League defeat, Newcastle United look as though they could be heading for the Championship. With just eight games to go, the Magpies currently sit 18th in the league, two points behind Blackburn in 17th and with a very tricky run-in to come, I would not be at all surprised to see them relegated.

Chelsea, Liverpool, Aston Villa and Tottenham are all still to come for Chris Hughton's men (well, Joe Kinnear's men really). In all probability, they will take

People say Newcastle are simply 'too good to go down', however I would have to disagree with that. If you look at it on paper, yes, they are too good to go down. They have players like Michael Owen, Obafemi Martins and Alan Smith, who would easily walk into several sides in the league.

The situation with the manager can't be helping the players. Hughton is currently in charge whilst Kinnear recovers from heart surgery and for me, I feel the club should have appointed someone else once Kinnear became ill. Since Kinnear has left, Newcastle have won just one game. No matter what way you look at it, that is not good. It will be fascinating to see how this one pans out over the next few weeks and months.

What do you think will happen? Will Newcastle be relegated? Have your say by leaving a comment below.
1 comments:
Newcastle are too good to go down! When Michael Owen comes back they will have that extra morale boost that will help them to fight back. As they proved at the start of the season they have enough talent ot beat Tottenham so why shouldn't they be playing Premiership football next year? Newcastle are a far better team than half of those above relegation