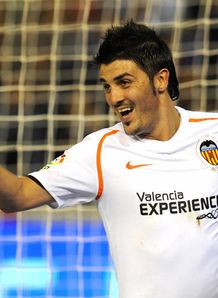 Am I disappointed. Yes. Surprised. No.

Yes, Valencia striker David Villa unfortunately looks as though he won't be moving to the Premier League after all. The Spanish international has been linked with a move to England for years now, however his agent has today ruled out any possibility of that happening and has said that should his client leave Valencia, he would like to stay in La Liga.

Over the years, Villa has earned a reputation as one of the greatest strikers on the planet, scoring nearly 200 goals in his career. Liverpool, Chelsea and Manchester City have all been linked with the 27-year old in the past although it is believed that City are the only side to have made an offer for the player.

Jose Luis Tamargo's (Villa's agent) had this to say : "David has rejected the chance to play in England ... It would be a nonsense to negotiate with Manchester City and Chelsea aren't interested ... If Valencia do decide to sell him he wants to stay in Spain."

Tamargo's comments certainly leave the door open for a possible summer move to either Barcelona or Real Madrid who are both keen admirers of the former Real Zaragoza man. It will be intriguing to see how this one pans out over the summer. Valencia are, as we all know, in a spot of bother in terms of finances and I feel they will find it difficult to reject any bids of £35 million plus. Given that, I would be extremely surprised to see Villa in a Valencia shirt come the start of next season.
1 comments: