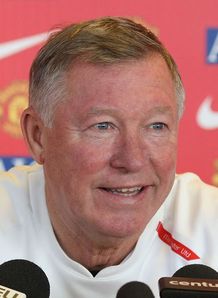 Sir Alex Ferguson has today claimed that Liverpool are the only side capable of challenging Manchester United for this season's Premier League title. As it stands, Liverpool are just two points behind United at the top of the table, however that is likely to become five points if (when) Ferguson's men beat Fulham tonight.

Despite a relatively slow start to the campaign, United have managed to ease their way to the top of the table which has left people wondering can anyone even get close to them this season. Ferguson thinks so :

"I think they have played into our hands and that the title race now is going to be between ourselves and Liverpool."

For me, I'm not surprised to here Ferguson say this but I completely disagree with him. I don't think even Liverpool have a chance of stopping United claiming their 11th Premier League crown.

Even with some of their better players out injured, United have looked outstanding this season. Quite a few of their victories this season have come by a solitary goal to nil so, really, they haven't even got into fourth gear. There is no doubt United will go onto to claim the title and I fancy they will have wrapped it up by the end of April. Agree or disagree? Leave your comments below.
1 comments: