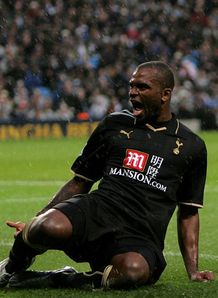 Tottenham striker Darren Bent has told Harry Redknapp he will leave the club in the summer unless he is given more first team opportunities.

The England international has fallen down the pecking order at White Hart Lane since the arrivals of Jermain Defoe and Robbie Keane last month and it looks as though his time as a Spurs player could be coming to an end.

Bent, 25, was strongly linked with a move away from the club last month, however despite interest from both Newcastle and Sunderland, nothing ever materialised and he remains in North London.

The former Charlton man has made nearly half of his 23 Premier League appearances from the bench this season and he is now preparing for a summer exit.

"I've spoken to the manager a couple of times about my position but I can only hear the same thing so many times ... I'm not one of those players who will just sit back and let his career pass him by."

"I'd like to think that improvement will be with Tottenham but if nothing is happening for me by the end of the season then I will look to go elsewhere ... I need to play more games. I want to play football. I don't want another season where I am in and out of the team all the time."

Compared to his first season at Spurs, Bent has been tremendous this campaign. He has scored 9 league goals which is nearly double the amount of goals Roman Pavlyuchenko has managed so I feel Bent is right to consider his future. At the end of the day, he is still a top quality striker, who I think could walk into nearly a dozen Premier League starting elevens.

What do you think? Leave your comments below.
0 comments: