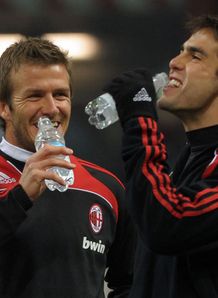 It has been confirmed today, that David Beckham will not be signing for Italian giants AC Milan on a permanent basis. The England midfielder recently expressed his desire to stay in Milan after only joining the club on a two-month loan deal, however LA Galaxy coach Bruce Arena has today claimed the move is now off and that Beckham will return to America next month.

AC Milan were told earlier this week that if any move was to happen it would have to be done by Friday evening. That deadline has now passed without Milan making an acceptable offer and Beckham, 33, will now have to return to the US.

Arena had this to say : "Today's deadline imposed by Major League Soccer Commissioner Don Garber regarding a resolution of David Beckham's potential transfer to AC Milan has passed and we did not receive an acceptable offer for the player.
"As a result, David remains an LA Galaxy player and we look forward to having him back with the club starting 9th March". Since joining Milan back in January, Beckham has been in outstanding form and as a result has recieved some high praise from Milan coach Carlo Ancelotti. It is clear for all to see that Beckham is desperate to stay in Italy and somehow, I don't think we've seen the end of this.
What do you think will happen? Leave your comments below.
0 comments: