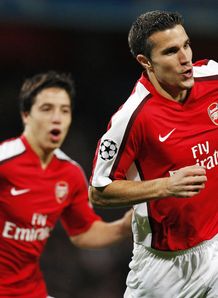 Arsenal striker Robin Van Persie has today been linked with a summer move to Italian giants Inter Milan. The Dutch international is currently locked in negotiations with Arsenal over a new long-term contract, with the club unwilling to cough up the £80,000 a week Van Persie is demanding.

The 25-year old has been one of Arsenal's top performers this season in what has largely been a disappointing campaign to date. Inter boss Jose Mourinho is desperate to bring a new striker to the San Siro once the season ends, with Van Persie believed to be his number-one target, however Arsene Wenger will obviously be reluctant to sell one of his most prized assets.

If Arsenal are to finish the season without winning any kind of silverware, I think Van Persie may well look for a move to Inter. Since joining the club back in 2004, Van Persie has won just one trophy. The FA Cup in 2005 and for me, a player of Van Persie's quality should be winning more than just one trophy every four years.

What do you think? Will another trophiless season see Van Persie on his way out of the Emirates? Leave your comments below.
9 comments: