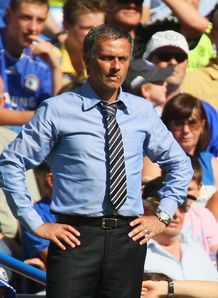 Jose Mourinho (or the Special One, as he is more commonly known) has claimed that he will one day return to manage Chelsea.

The Portuguese manager left Stamford Bridge nearly a year-and-a-half ago after spending a very successful three years at the club and has since joined Italian giants Inter Milan.

Mourinho left Chelsea back in September of 2007 after falling out with club owner Roman Abramovich, however he has now claimed that he will return to the club.

"If you ask me if one day I think I will return to Chelsea, I will tell you yes I think so, I think so because we were so happy together."

Following the departure of Luis Filipe Scolari from the club and indeed the subsequent appointment of Guus Hiddink (until the end of the season) many names have been linked with the job, including Mourinho. As a fan of the Premier League, I must admit, I would be delighted to see Mourinho return.

It just hasn't been the same without him over the past 18 months or so. Whether it was his touchline celebrations or his hilarious post-match interviews, the guy was just a genius. I feel the sooner Mourinho comes back to English football the better and I'm sure the majority of you will agree with me when I say that.
0 comments: