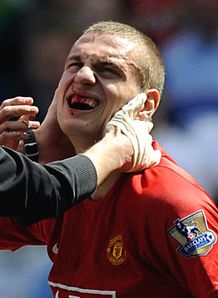 That's according to our readers anyway. After just a couple of days of voting, Football Corner has decided to bring to an end our latest poll. The poll asked you, the reader, who you thought has been the Premier League's player of the season so far. I would like to say it was close but quite frankly, it wasn't. Manchester United defender Nemanja Vidic simply ran away with it.

Here is the full result of the poll :

Nemanja Vidic - 176 votes (58%)
Steven Gerrard - 28 votes (9%)
Robin Van Persie - 17 votes (5%)
Edwin Van Der Sar - 17 votes (5%)
Other - 17 votes (5%)
Ashley Young - 16 votes (5%)
Stephen Ireland - 11 votes (3%)
Dimitar Berbatov - 6 votes (1%)
Nicolas Anelka - 5 votes (1%)
Cristiano Ronaldo - 4 votes (1%)
Fernando Torres - 4 votes (1%)

Total Votes : 301.

I would like to take this opportunity to thank everyone who voted. It was one of our biggest polls to date and I would strongly recommend you vote in our latest poll which can be found at the top right of the site. It asks : Who will be the next Chelsea manager. Get voting now.
0 comments: