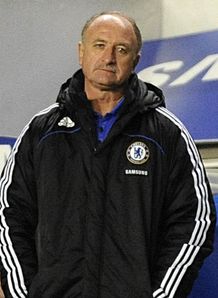 Let's admit it, we were all a bit surprised to see Chelsea sack Luis Filipe Scolari after just seven months in charge. The Brazilian arrived at Stamford Bridge last July after spending five years as the Portuguese manager.

His arrival was met with great optimism amongst the Chelsea faithful, however, their form in recent weeks and months has begun to deteriorate and ultimately this has led to Scolari's departure.

Chelsea currently sit seven points behind Manchester United at the top of the Premier League table and some people would argue they are out of the title race. During his rein at the club, Scolari had many ups and downs. The highlight of his time with Chelsea would have to be the opening game of the season when they simply demolished Portsmouth beating them 4-0.

Throughout his time in West London, Scolari's relationship with Chelsea striker Didier Drogba came in for a lot of questioning. It was clear for all to see that the pair never really got on with one another. Scolari continued to leave Drogba on the bench even when the Ivorian striker was fully fit and who knows, that may have been part of the reasoning why Chelsea sacked him.

I don't know if Chelsea have made the right decision here. There is no doubt that Scolari's is a top class manager and I feel, given more time he would a proved a success. I am a bit sad to see Scolari on his way out of English football. He was a lickable character in the game and wherever he ends up next, I certainly wish him the very best of the luck.

What do you think? Should he have been given more time to turn things around or where Chelsea right to get rid of him now? Leave your comments below.
1 comments:
personally I agree with the descion to fat phil. A club with their talent should be ripin it up the prem, dusent matter who dey get next he'll never win any ting wit man utd round, fukin Chelsea nackers. Slick site cotzy. Quite a fizzy post, come on Ireland tomorrow, few fizzy beers, yeowww. Hope watty Brady can get off....