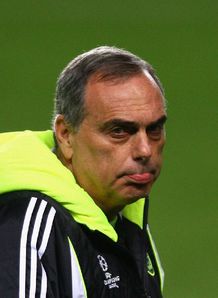 Have I missed something here?

Following the departure of Luis Filipe Scolari from Stamford Bridge this afternoon, it is believed that Chelsea are now looking for bring Avram Grant back to the club just eight months after sacking him.

The former Israel manager was sacked by Chelsea after narrowly missing out on the Champions League, Premier League and Carling Cup last season and for me, it beggars belief that they even want him back. It is understood that Chelsea have drawn up a list of two possible candidates to replace Scolari with Grant being one of them.

The other on the list is Russia manager Guus Hiddink and although I think Chelsea have a job persuading the Dutchman to move to West London, I feel it would be well worth their time going after him.

I am sure a lot of Chelsea fans would agree with me that re-appointing Grant would a step in the wrong direction. During his time as Chelsea boss, I don't know about you, but I found his tactics quite negative. Many of his wins were unconvincing to say the least. 1-0 wins at home to the likes of Middlesbrough, Reading and West Ham prove this and I don't think bringing Grant back to the club would improve them in any way.

What do you think? Should Chelsea bring Grant back to the club or should they look elsewhere? Leave your comments below. Also, feel free to vote in our latest poll (top right of the site). The poll asks : Who will be the next Chelsea manager? Get voting.
4 comments: