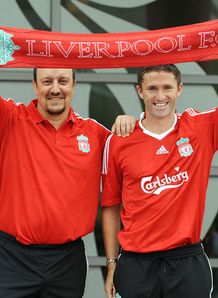 Liverpool manager Rafa Benitez has today admitted he has taken a risk by letting Robbie Keane join Tottenham. The Spaniard agreed to let Keane re-join Spurs just hours before the transfer window shut yesterday, which prevented him from replacing the Republic of Ireland international and in my opinion, it will cost him big time.

"It is a risk but the situation was not good and we needed to do something." claimed Benitez.

Keane's departure leaves Liverpool with just four attacking options. Fernando Torres, Dirk Kuyt, Ryan Babel and David N'Gog. Now if you look at that, if Torres or Kuyt were to get injured in the coming weeks, Liverpool would really struggle for goals.

Between the four of them, they have bagged just 19 goals this season (in all competitions) with Torres and Kuyt scoring 15 of those. While Keane might not have been doing so great at Liverpool, I don't think Benitez was right to let him go given the fact he didn't even have another frontman lined up to arrive at Anfield.

With the Reds currently sitting two points behind Manchester United at the top of the Premier League table (with United also having a game in hand) it was already a hard enough task for Benitez to try and push for the title. But now that he has sold one of his star strikers I feel any chance Liverpool had of winning the title have all but gone and I wouldn't be surprised if they ended up finishing behind Chelsea in third.

What do you think? Was Benitez right to let go of Keane even though he hadn't a replacement lined up? Leave your comments below.
4 comments: