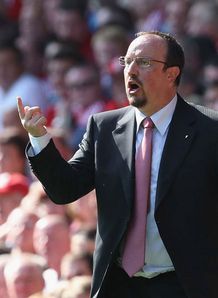 Let's face it, it was only a matter of time before Liverpool boss Rafa Benitez had something to say about the comments made by Arsene Wenger earlier this week. The Arsenal manager claimed that Manchester United looked untouchable this season, however Benitez has responded by saying they're not.

Liverpool are considered by many as United's only challengers for the Premier League title this season, however with the Merseyside club currently sitting five points behind Sir Alex Ferguson's men, I for one find it hard to see how they will even get close to them.

Benitez is never short of things to say when it comes to United. We all remember his famous rant, where he talked only about facts and how the FA are so leiniant with United and all that crap. When asked by Wenger's recent comments, the Spaniard had this to say :

"When I speak of facts, one is that United are a very good team and I knew they could have a run of winning games in a row ... They will win more than a lot of the other teams but to say we can't beat them? I don't think so ... I can only talk of my team but I don't think they are untouchable. In football now every game is tough so anything can happen."

I am going to have to completely disagree with Mr.Benitez here. Let's be honest, United are certainties for the title this season, no matter what way you look at it. They are five points clear and have the advantage of facing the "big four" (Chelsea, Liverpool and Arsenal) all at home in the final months of the season. As much as it pains me to say this (considering I am a Man City fan) I think United look untouchable and it wouldn't surprise me at all if they went unbeaten from now until the end of the season.

What do you think? Do you agree with Benitez or Wenger? Leave your comments below.
0 comments: