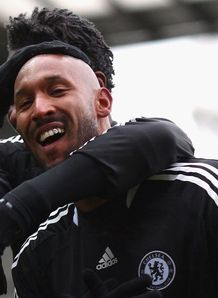 They are still ten points behind leaders Manchester United, however has Chelsea's victory over title rivals Aston Villa today put them back in the race for this season's Premier League title?

Nicolas Anelka scored the only goal of the game this afternoon as Guus Hiddink's men ran out 1-0 winners at Villa Park. Before today's game, many people had questioned whether or not Chelsea had what it takes to challenge for the title. Despite the fact I think United will eventually win it, I feel Chelsea's victory today gives them a real good chance of at least beating Liverpool for 2nd.

I have been really impressed with Hiddink's attitude since his arrival at Stamford Bridge last week. During his first press conference as Chelsea boss earlier this week, Hiddink claimed he wasn't just at the club to pass time. When asked about the club's chances of challenging for the title, Hiddink had this to say :

"We're 10 points down on Manchester United, which will be very difficult but we will give it a try."

Personally, I think that was the perfect response. He wasn't conceding defeat in the title race and he didn't put too much pressure on himself saying that he could win the title. He simply said, we will give it a try. With the pressure now off Chelsea this season, I feel that could have a positive affect on the team. I wouldn't be at all surprised to see them go on a great run of form between now and May and who knows where it might take them.

Can Chelsea still challenge for the title? Have your say by leaving your comments below.
0 comments: