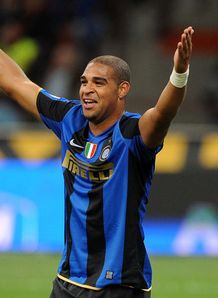 Tottenham have today received two set-back's on the transfer front. It appears as though their chances of landing Inter Milan striker Adriano on a six-month loan deal have all but ended after the Italian giants confirmed they weren't willing to let the player leave the club on loan this month.

Spurs boss Harry Redknapp was in Milan yesterday for talks with Inter representatives about a possible loan move for the Brazilian striker, however Inter informed Redknapp they were only willing to sell the player on a permanent basis. It is unlikely the North London will continue their interest in the 26-year old, which still leaves them short a striker.

Meanwhile, Wigan chairman Dave Whelan has this evening confirmed they have rejected a £10 million bid from Tottenham for midfielder Wilson Palacios. The Honduras international has been strongly linked with a move to White Hart Lane in recent days as Redknapp looks to add another midfielder to the ranks at the club.

Palacios, 24, has impressed since moving to the JJB back in January 2008 and Whelan believes he is worth more than the £10 million which Spurs bid for the player. He had this to say : "For that lad, £10m is not enough. We are definitely looking for more than that, that's for sure." Obviously disappointing news for Spurs fans because I feel both players would of been really good signings. I would be extremely surprised if Spurs didn't make another bid for Palacios in the coming weeks because judging by Whelan's comments, they could well let go of the former Birmingham man.
0 comments: