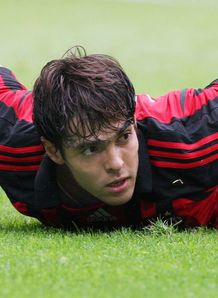 Manchester City are this evening closing on the signing of AC Milan playmaker Kaka. The Brazilian international has been strongly linked with a move to Eastlands in recent days after it was revealed that City representatives had flown to Milan on Tuesday for talks with the Italian giants about a possible £107 million deal.

City boss Mark Hughes confirmed this afternoon that the club were keen to bring Kaka to the club and that talks were ongoing about a possible move. Despite Kaka, 26, claiming yesterday that he wanted to grow old at the San Siro and one day become the captain at the club it has now been revealed that the player has been cleared to talk to the Premier League club.

Kaka's spokesman Diogo Kotschko had this to say : "Milan has authorized the negotiation with City .... The next step is Kaka's father will talk to Manchester City." It is been rumoured that Kaka could receive as much as £500,000 a week at City and I don't care who you are, you just can't turn that kind of money down.

I have been surprised at how quick this has moved. Personally, I was expecting this move to draw on for a while, however that definitely hasn't been the case. To say I would be happy to see Kaka arrive at City in the coming days is a massive understatement (being a City fan myself). There is no doubt that Kaka is one of the greatest players on the planet and his possible arrival at City would certainly send a message to the rest of the footballing world that City mean business.
0 comments: