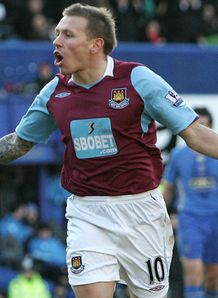 Manchester City have today had a third bid rejected for West Ham striker Craig Bellamy. City boss Mark Hughes is desperate to bring in new faces at Eastlands this month, however so far he has found it difficult to do so.

Bellamy, 29, is strongly fancied to leave Upton Park during this window after West Ham confirmed they would listen to all offers for their players. It is believed City made a bid of around the £10 million mark, however it was rejected soon after being made, leaving the world's richest club left to go back to the drawing board.

It is clear for everyone to see that Hughes is keen to sign Bellamy, however as a City fan myself, I must admit I find the whole situation quite funny. One day it's £100 million for Brazilian playmaker Kaka and today it's £10 million for Welsh striker Bellamy.

I have never rated Bellamy and I feel signing him would be a backward step for City. Ok, he is probably better than the likes of Jo and Benjani, but if we are to have aspirations to become one of the biggest clubs in the world, I don't think we should be pursuing players like Bellamy. Despite this, I wouldn't be at all surprised to see City make yet another bid for Craig in the coming days, so make sure you stay tuned to Football Corner for all the latest on this and much more.
0 comments: