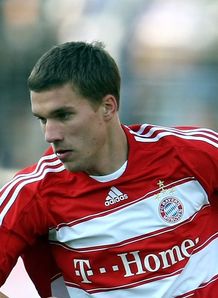 Tottenham are lining up a possible £15 million move for Bayern Munich striker Lukas Podolski after the player claimed that Spurs were interested in him. The German international is expected to leave the Allianz Arena this month after he admitted he wasn't happy at Bayern anymore, sitting on the bench.

Podolski, 23, has been previously linked with a move to White Hart Lane and with Stewart Downing now unlikely to arrive in North London, Harry Redknapp is ready to re-ignite his interest in the former Cologne man.

Podolski has had this to say about a possible move away from Bayern : "I need to play, I cannot continue to sit on the bench. I'm just not happy in Munich anymore ... I think it is time for me to leave Bayern so that I can do my job, which is playing football ... I know Roma are interested, but so are several other sides. In Germany the likes of Hamburg, Cologne, Werder Bremen and Borussia Dortmund. In England I'm of interest to Manchester City and Tottenham."

I have always been a massive fan of Podolski's amd I would be delighted to see him arrive in the Premier League this month. He is still only 23-years old and I feel at £15 million would prove real value for money. There is no doubt Spurs need to sign a new frontman this month and I think Redknapp could do a lot worse than moving for Podolski.
0 comments: