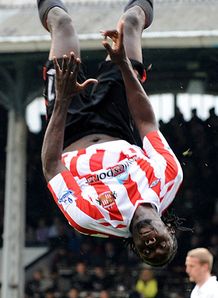 Tottenham have today confirmed they have made an approach for Sunderland striker Kenwyne Jones. The Trinidad & Tobago international has been heavily linked with a move to White Hart Lane in recent weeks with Spurs understood to be willing to pay as much as £6 million plus Darren Bent for the striker.

Spurs boss Harry Redknapp is desperate to bring in one or two more faces before the transfer window closes on February 2nd and Jones is believed to be high on his wish-list. Jones, 24, moved to the Stamdium of Light back in 2007 after spending nearly three years at Southampton, where he worked with Redknapp for some time.

When asked about the possibility of Jones arriving in North London this month, Redknapp had this to say : "We have made an enquiry for Jones ... I have no idea how far the chairman has got with it or even whether Sunderland want to do a deal."

Personally, I think Jones would be a magnificent signing for Spurs. He doesn't score too many goals however he makes a hell of a lot of assists and I feel he would prove a valuable asset for Spurs. It will be interesting to see if Ricky Sbragia can keep Jones at the club in the coming days but no matter what happens, you will find out here on Football Corner.
0 comments: