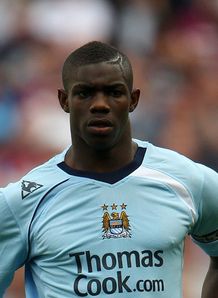 Arsenal are preparing to make a £7 million bid for Manchester City defender Micah Richards. The England international has struggled for form this season and has lost his place in Fabio Capello's squad but now Arsene Wenger is ready to offer him the chance to move to the Emirates.

Before this season, Richards had become one of the most promising young defenders in the Premier League, however a poor run of form this campaign has left City boss Mark Hughes on the look out for a new centre-back. The 20-year old still has four years left on his contract at Eastlands but City may be about to offload him for just £7 million before the transfer window slams shut on February 2nd.

Arsenal are keen to bring two new players to the club before the window closes, with Andrei Arshavin and Richards believed to be very high on their wish-list. I have been extremely dissappointed with Richards this season. Since making his City debut back in 2005, I have always thought that he had the ability to become one of the best defenders in Europe.

Unfortunately, it hasn't worked out that way and maybe a move to a club like Arsenal could be the thing to kick-start his career. He is still only a baby and I feel he still has the potential to become a top top player. For all the latest developments on this and much more in the coming days, stay tuned to Football Corner.
0 comments: