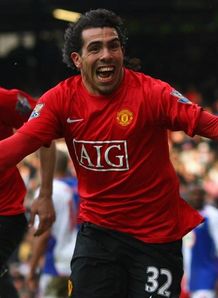 That's the opinion of our readers anyway. Over the last week or so, Football Corner has been asking it's readers where they thought Manchester United striker Carlos Tevez would be next season. The result was, still at Old Trafford, although it was very close between the Premier League Champions and Spanish giants Real Madrid.

The Argentine striker's future at United has been in doubt in recent weeks after the 25-year old admitted himself he would love to play for Madrid next season. United know they need to cough up £32 million to make Tevez' loan move to the club permanent but despite this you (the readers) still think he will be at the club next season.

Here is the full result of the poll :

Manchester United - 29 votes (30%)
Real Madrid - 28 votes (29%)
Other - 15 votes (15%)
Manchester City - 14 votes (14%)
Barcelona - 9 votes (9%)

Total Votes : 95

I would like to take this opportunity to thank everyone who voted in the poll and I would encourage everyone to vote in our lastest poll which can be found on the far right sidebar. The poll asks : Who will win the Carling Cup? Get voting now.
0 comments: