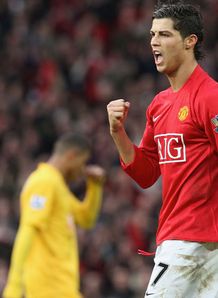 In case you didn't already know, Manchester United's Cristiano Ronaldo has this evening been crowned the FIFA World Player of the Year. The Portuguese winger had a magnificent 2008, which saw him win the Champions League, the Premier League and the FIFA World Club Cup.

Going into this evening's award ceremony in Zurich, there was little doubt who was going to take away the main prize. Ronaldo, 23, had been the bookies favourite to take the award for some time now and frankly this news doesn't come as much of a surprise.

The former Sporting Lisbon man saw of competition from Barcelona's Lionel Messi, who came in 2nd place, whilst Liverpool's Fernando Torres finished back in 3rd. Football Corner would like to congratulate Ronaldo on winning such a prestigious award and hopefully now this can be the boost he needs to kick-on this season.
0 comments: