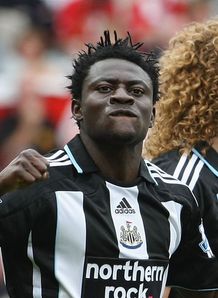 Newcastle United striker Obafemi Martins looks like he could be on his way out of St James' Park this month after his agent confirmed the player would consider any offers that came in for him. The Nigerian international has been at Newcastle since leaving Inter Milan back in 2006 and has since gone on to become an integral part of the Magpies starting eleven.

Martins, 24, was strongly linked with a move to Arsenal during the summer, however for whatever reasons he remains a Newcastle player. That may be about to change though. The player's agent Dapo Kujore has today confirmed his client would be open to any offers from different clubs.

Kujore had this to say : "If an offer came for him, of course he would consider it ... But, for now, he is a Newcastle player and he will give his best to the club as long as he is there." Personally, if I was Arsene Wenger, I would be making a bid for the player as soon as possible. It is obvious that Martins isn't happy on Tyneside and I feel he would be a tremendous signing for Arsenal at the rumoured £13 million.
0 comments: