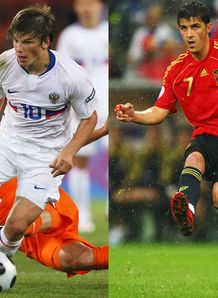 Arsenal could be about to miss out on Zenit St Petersburg play maker Andrei Arshavin with the world's richest club, Manchester City ready to hijack the Gunners move for the player. The Russian international is expected to leave Zenit this month after his agent confirmed that several clubs are interested in his client.

The 27-year old has been heavily linked with a move to the Emirates in recent days and weeks, however Arsene Wenger is reluctant to meet Zenit's valuation of £18 million for the player. Man City boss Mark Hughes is now ready to join Wenger in the race to sign Arshavin and with City's billions, who would bet against them winning that race?

Arshavin's agent, Daniel Lachter had this to say : "That is what is going to happen ... There are 10, 15, 20 teams who are interested in him. The question is, can they afford him?" As a City fan myself, I would delighted to see Arshavin arrive at Eastlands during this transfer window. I have always been a huge fan of Arshavin's and I feel he prove a quality addition to a side that have struggled for consistency this season.

Where will Arshavin end up? Make sure you stay tuned to Football Corner for all the latest on this and much much more over the coming weeks.
0 comments: