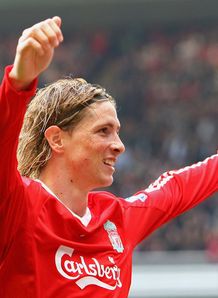 Liverpool striker Fernando Torres has today admitted Manchester United are the favourites to win the Premier League title this season. United currently lie 5 points behind Liverpool at the top of the table, however Sir Alex Ferguson's men have two games in hand and Torres believes that is enough to make them favourites.

The Spanish international recently returned to first team action after a lengthy lay-off with a hamstring injury and many people think if Liverpool are to have any chance of winning the title, Torres could be the key. The 24-year old had this to say : "They are the favourites and the champions right now and have shown over the years they are a very powerful team"

"They have two more games to play. If they catch up they will be top." Although I do agree with what Torres is saying, I wouldn't be too happy if I were a Liverpool fan. It is clear that they are coming under serious pressure from United and I don't think hearing one of your best players at the club say that the other side are favourites to win the title would fill you with much confidence. It will very interesting to see how these comments affect the team, starting with Liverpool's trip to arch rivals Everton next Monday.
0 comments: