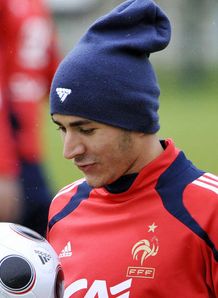 It would seem Manchester United are preparing for life without striker Carlos Tevez. It has been reported in several papers this morning that United boss Sir Alex Ferguson has set his sights on a summer move for Lyon striker Karim Benzema which would almost certainly spell the end for Tevez' time at Old Trafford.

As we all know by now, Tevez has only six-month's left of his two year loan deal at United and the Premier League Champions know they will need to cough up £32 million to make the move permanent. With United reluctant to fork out such a massive amount of money on a player who sits on the bench most weekends, it is expected the Argentine will join Real Madrid at the end of the season.

That would leave United short a striker. French international Karim Benzema has long been linked with a move to England, with United understood to be very keen to sign the 21-year old. Just a couple of months ago, Lyon slapped a massive £88 million price-tag on Benzema's head, however it is thought that should United make an offer of £40 million it could well be accepted.

Personally I think this would be a great move for United. Although I am a fan of Tevez', I don't feel he is worth £32 million and I would be extremely surprised to see him still at the club next season. Benzema is without doubt one of the best strikers in Europe and I feel, should he join United he will get even better. Stay tuned to Football Corner for all the latest transfer news over the coming weeks.
0 comments: