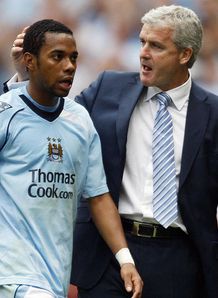 Manchester City striker Robinho returned to training today after spending last week in Brazil dealing with a "family matter". The Brazilian international left City's training camp in Tenerife last Tuesday after it was revealed that his international team-mate, Kaka would not be joining the club after AC Milan ended negotiations about a possible £107 million move.

It was claimed at the time that Robinho flew home because he was furious that the deal to bring Kaka to Eastlands had collapsed, however he later said he only flew home to solve some family issues (well really just to celebrate his 25th birthday on Saturday).

The former Real Madrid man claimed that he had permission from City to fly home, however City boss Mark Hughes later admitted that this was not the case and that the club would deal with it when Robinho got back to England.

Well he's back now, so what do you think should happen. Should City fine the player a few weeks wages (not that it would mean much to Robinho) and risk upsetting their star man or should they just leave it be. Personally, I think City should have the balls to fine him something like two weeks wages but in the end I think they will just warn him not to do it again. Have you say by leaving your comments below.
0 comments: