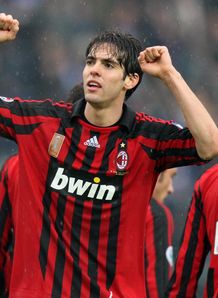 It has been confirmed tonight by the owner of AC Milan that Kaka will remain at the club despite a £107 million bid being made by Manchester City. The Brazilian playmaker has been the centre of intense speculation in recent days after it was revealed that the world's richest club, Man City were prepared to break the bank in order to sign the player, however the move is now dead.

The 26-year old admitted last week that he wanted to grow old at Milan and even had aspirations to become the club captain one day. City had hoped an offer of £500,000 a-week would be enough to convince the player to move to Eastlands but it would appear money isn't everything in football.

After a day of negotiating in Milan between City officials, Milan officials and Kaka's representatives the news finally broke at about 10 o'clock this evening. Silvio Berlusconi, the club's owner and indeed the Italian prime minister had this to say about the matter : "Kaka is staying with Milan ... For Kaka, money isn't everything.''

This news will obviously come as a massive blow to Mark Hughes' transfer plans but you know what they say, there's plenty more fish in the sea and that is definitely true in City's case. It is now thought that City will focus their efforts on signing Zenit St Petersburg playmaker Andrei Arshavin. The Russian international has been strongly linked with a move to Arsenal in recent weeks, however it was reported earlier today that City had entered the race.

Arshavin, 27, would be interested in a move to the Premier League, with City understood to be his preferred destination. Personally, I am dissappointed that Kaka won't be coming to England after all. In truth, £107 million was just crazy and I think City would be better off spending £17 million of that on Arshavin and then start pursuing other targets around Europe. Stay tuned to Football Corner for all the latest on this and much more in the coming weeks.
0 comments: