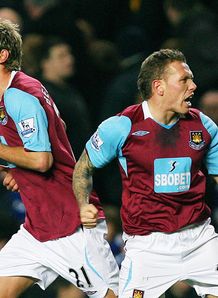 Tottenham have this afternoon missed out on West Ham striker Craig Bellamy after it was revealed that the player has agreed personal terms with Manchester City. The Welsh international has been strongly linked with a move to White Hart Lane in recent weeks, however City have today agreed a £14 million deal for the player.

Bellamy, 29, admitted last week that he would like the opportunity to talk to Tottenham but West Ham denied him permission. That led to his exclusion from the Hammers squad for Sunday's 3-1 victory at home to Fulham and late last night it was announced that City had reached an agreement with West Ham.

City boss Mark Hughes was desperate to bring Bellamy to Eastlands after working with him at both Blackburn and Wales in the past. As a City fan myself, I must admit I am not overly happy with Bellamy arriving at the club. It has been proved in the past that when things don't go Bellamy's own way he is quick to throw his toys out of the pram and I don't think he is what City need right now. The whole situation is quite amusing really. One day it's Kaka, the next it's Bellamy.
0 comments: