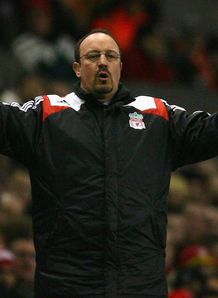 Liverpool's hopes of winning the Premier League title this season have taken a massive set-back this evening. Rafa Benitez' men could only manage a 1-1 draw at home to arch rivals Everton this evening leaving questions marks as to whether or not Liverpool will be the ones lifting the trophy come the end of May.

Personally, I think not.

Liverpool's home form this season has been poor to say the least. They have drawn five games at home this season to the likes of Stoke City, West Ham and Hull City and for me, you can't do that and still expect to win the title.

Many have claimed that Benitez' recent outburst over the FA's treatment of Manchester United boss Sir Alex Ferguson was the wrong thing for the Spaniard to do. Since then, Liverpool have played two league games, drawing both of them which has in turn seen them relinquish the lead over United at the top of the table.

Another major issue at Anfield at the moment is the manager's contract situation. Benitez recently rejected a new deal at the club, which can't be good for team morale. I am sure all Liverpool fans will be hoping that the club's American owners move quickly to re-negotiate a deal to keep Benitez at the club for a long time to come. Unfortunately, I don't think that alone would be enough to win Liverpool the title. Ah well, there's always next season.
0 comments: