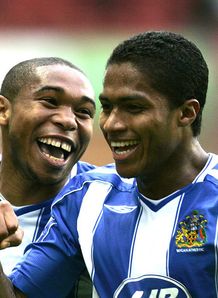 Liverpool, Aston Villa and Manchester United are all gearing up for a battle for Wigan Athletic winger Antonio Valencia. Wigan boss Steve Bruce has been told he must sell before he can think of signing new players in the upcoming January transfer window and with interest from some of the Premier League's big boys, Valencia could be one to make way.

Sir Alex Ferguson, Rafa Benitez and Martin O'Neill are ready to battle for Valencia and it is believed they will need to bid at least £7 million to have a chance of signing the 23-year old. The Ecuadorian international has been a revelation since joining Wigan back in 2006 from La Liga side Villarreal and has since made over 60 appearances for the Latics.

It comes as no surprise to me to see Valencia being linked with the likes of Liverpool and United. Personally I think Valencia will leave the JJB this winter, but who he will join I'm not too sure. I have been very impressed at how well Valencia has adapted to the Premier League and I feel he would be a quality signing for any of the sides in question. Make sure to stay tuned to Football Corner as we get ever nearer to the opening of the January transfer window.

Valencia costs just £4 million in this season's "You the Manager" and must be worth a look. So follow the link below to enter your team to be in with a chance of winning some terrific monthly and weekly prizes.
0 comments: