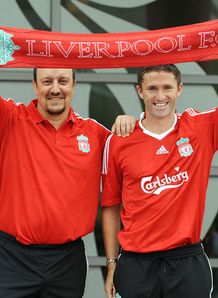 Robbie Keane's days as a Liverpool player appear numbered after Rafa Benitez left him on the bench as his side drew 2-2 at home to Hull City yesterday. Benitez made three substitutes in the last 20 minutes or so as Liverpool chased all three points against Phil Brown's Hull and for some reason he decided to leave £20 million summer signing Keane on the bench.

The Republic of Ireland international has only scored 4 goals for the Merseyside club since joining from Tottenham in the summer and has even been linked with a move back to White Hart Lane. All last week Benitez had insisted that Keane had a future at Anfield and even claimed that Keane could play a large part in Liverpool winning the title.

When asked why he decided not to bring on Keane during yesterday's match with Hull, the Spaniard replied : "Using more people in the box is not a guarantee." I understand that Keane hasn't done so well during his time at Liverpool, however if your side is drawing at home in the Premier League and you need a goal, why not gamble on a player like Keane.

Personally I would be very surprised to see Keane still a Liverpool player once the January transfer window closes and I feel a move back to Spurs could be on the cards. So, what do you think will happen. Will Keane be a Liverpool player beyond the January transfer window, place your vote below.


0 comments: