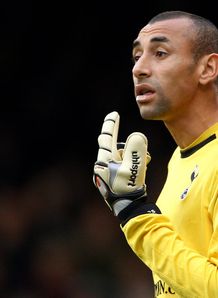 Tottenham keeper Huerelho Gomes yesterday proved his critics wrong with a stunning display against Premier League Champions Manchester United. The Brazilian international has received much criticism since arriving at White Hart Lane during the summer for his dodgy displays in goal for Spurs, however yesterday he showed everyone why Spurs decided to spend £8 million on him.

Harry Redknapp has always been quick to defend Gomes, saying he would prove to be a great keeper for the North London club and judging on yesterday's display, he may just be right. The 27-year old has made several high-profiled mistakes this season, including blunders against Fulham and Liverpool, which led to much speculation that a new keeper would arrive at the club in January.

I must admit, I have always been quick to criticise Gomes when he has made a mistake, however I was quite impressed with him yesterday. He never looks confident when coming to collect the ball from corners or frees but against United yesterday that certainly wasn't the case. His save from Ryan Giggs' free-kick late on was world class and Spurs fans will be hoping he can keep that kind of form up over the busy Christmas period.

Has Gomes finally turned a corner? I certainly think he has and I would strongly recommend you have him in your team. Gomes costs just £3.5 million in this season's "You the Manager" and looks a real bargain. So follow the link below to enter your team to be in with a chance of winning some terrific weekly and monthly prizes.
0 comments: