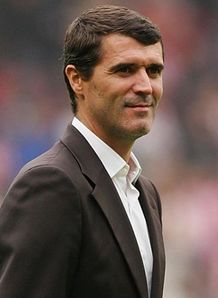 Former Sunderland manager Roy Keane has this evening insisted he will return to management. Keane left the Stadium of Light last week after a poor run of form with the Wearside club, however he has vowed to one day return to management.

Many senior figures in the game questioned whether or not Keane would have the desire to return to management including his former manager Sir Alex Ferguson. The 37-year old had this to say when questioned about the matter : "I have experienced and learnt a tremendous amount in the last 27 months and enjoyed the rigours of being a manager.

"I look forward to building on those experiences and, sometime in the future, returning to football management." Personally, I am glad to hear Keane say these things. There is no underestimating how well Keane actually did during his time at Sunderland, earning promotion in his first season their and maintaining their Premier League status the season after.

Meanwhile the race to replace Keane at Sunderland is hotting up. Sam Allardyce remains the bookies favourite, however Alan Curbishley has come in for a lot of support from the punters in recent weeks and is now the second favourite. Make sure you stay tuned to Football Corner over the coming weeks for the latest news and views of the footballing nature.
0 comments: