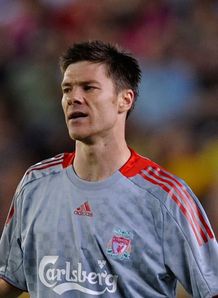 Arsenal are ready to renew their interest in Liverpool midfielder Xabi Alonso once the January transfer window opens. The Spanish international was heavily linked with a move to the Emirates during the summer, but for whatever reasons Alonso remains a Liverpool player.

The 27-year old has played no small part in Liverpool's terrific start to the Premier League campaign, which sees the Merseyside club sit top of the table. Alonso was close to joining to Juventus during the summer after falling down the pecking order at Anfield behind Javier Mascherano and Steven Gerrard, however Rafa Benitez has now managed to use the trio to best affect.

Gunners boss Arsene Wenger has been told he has money to spend in the transfer window and he has now set his sights on bringing Alonso to North London. I am sure all Arsenal fans would be delighted to see a player like Alonso walk in the door in January, however I just can't see it. He is really starting to excel at Liverpool and I can't see Benitez letting him go for anything.

There is no doubting that Alonso is in terrific form and personally I would want him in my team. He costs just £4 million in this season's "You the Manager" and personally I feel that is a bargain. So follow the link below to enter your team to be in with a chance of winning some great weekly and monthly prizes.
0 comments: