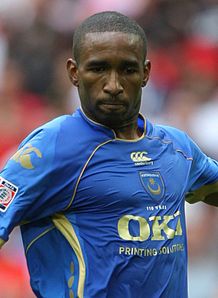 Tottenham manager Harry Redknapp has today ruled out a move for Portsmouth striker Jermain Defoe. The England international has been linked with a possible return to White Hart Lane since the arrival of Redknapp at the North London club almost two months ago, however Redknapp has today quashed those rumours.

It was Redknapp who brought Defoe to Fratton Park back in January of this year after the player spent a large part of last year on the bench at Spurs. The 25-year old has since gone onto to become a huge success on the south coast with Pompey, scoring over 15 goals in just 30 appearances for the club.

With Spurs keen to add a striker to their ranks during the January transfer window, Defoe is seen as a likely candidate to arrive at the club come the new year, however Redknapp had this to say when asked about a possible move : "We haven't made an offer for Jermain ... I do like Jermain but there are a lot of players at Portsmouth I like. They have a great squad of players there.

I am sure Pompey boss Tony Adams and indeed the Pompey faithful will be praying that they can hold onto Defoe. Although Redknapp has denied he has made an offer for Defoe, I still wouldn't rule out a possible move come January. He is obviously a very talented player and I think Spurs could really use him right now. You sign Defoe for just £6.5 million in this season's "You the Manager" so follow the link below to enter your team now.
0 comments: