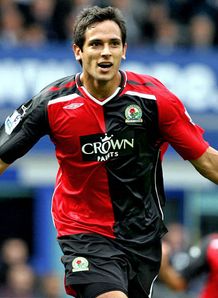 Roque Santa Cruz looks certain to leave Blackburn Rovers come the new year after today revealing he wants to play for a club that is both ambitious and in Europe, cough cough Manchester City. The Paraguayan striker has been heavily linked with a move to Eastlands ever since former Rovers boss Mark Hughes arrived at City earlier this year and an £18 million January move has been touted.

Santa Cruz' comments come just a day after new Rovers boss Sam Allardyce insisted he would not be forced to sell his star players when January comes around, however the 27-year old now looks more than likely to leave Ewood Park next month.

The former Bayern Munich man had this to say about a possible exit from the club : "I would really like to keep improving and performing better than I am doing right now ... And if a better or an ambitious club come in and want to offer me the chance I would like to take it ... I am looking to again play in a big side that is in Europe and trying to win their league."

It has been reported in the last several days that Santa Cruz has a clause in his contract which would allow him to leave the club should any club come in with a bid of £18 million. Money-bags Manchester City have been linked with dozens of big name strikers in recent months, however the name that keeps popping up is Santa Cruz. As a City fan myself, I would be more than happy to welcome Roque to the club. He is a quality player and I feel Blackburn would be thrilled to make a £15 million profit from the big man.
0 comments: